COVID-19 Update | March 15, 2020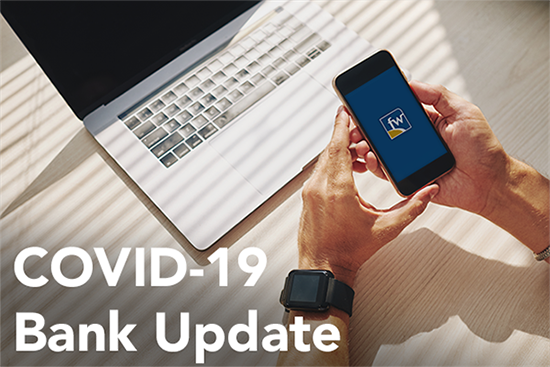 With the Corona Virus(COVID-19) now present in Nebraska, First Westroads Bank wants to assure you that we are committed to protect the health and well-being of all our clients, employees, and the communities in which we serve. We want to provide you with consistent and uninterrupted service. With this in mind, we have taken the following precautions at our two full service locations:
Our two locations go through a daily deep cleaning and sanitation in addition to our normal cleaning procedures. This includes all of our high touch point areas, teller areas, handrails, and door handles.

We are providing hand sanitizer for clients and employees to use when visiting our locations.

We encourage frequent and thorough hand washing among all of our employees.

We require all employees to stay home if they are ill.
Although we have taken these precautions, we encourage clients to use our digital banking services such as On-Line Banking and Mobile Banking to reduce the need to come in. These are tools that assist you in staying connected to the bank and minimizing contact with other people. They provide you with 24 hour a day/7 day a week access to your accounts. Please find more information about these services at our website, firstwestroads.bank. Should you have a need to come into the bank, please know that we have taken additional steps to minimize the risk of coming into contact with COVID-19.
Call us at 402-330-7200 for to Enroll in Personal On-line Banking – View all of your transactions and balances, make one-time and recurring payments through Bill Pay, and transfer funds.

Enroll in Business On-line Banking Here -- View all of your transactions and balances, make one-time and recurring payments, manage payment, and transfer funds.

Download our Mobile Banking Apps below
First Westroads Bank is one of the safest and financially strong financial institutions for your banking relationship. First Westroads Bank was recently recognized to be in the top 10% of all community banks in the United States by CB Resources, a leading community banking consulting firm. First Westroads Bank also remains rated 5-Star (Highest Rating) by Bauer Financial, the nation's premier bank rating firm.
Our team is ready to assist you or your business. Should you need a new debit card or assistance to get set up on Mobile or On-Line Banking, please call us at 402-330-7200 and one of our bankers will take great care of you.
These are unprecedented times that we are all going through. First Westroads Bank is here for you. We will continue to keep you informed of any changes or updates.
Thank you for your business.

Chris J. Murphy
Chairman & CEO
First Westroads Bank
Copyright © 2020 First Westroads Bank. All Rights Reserved.